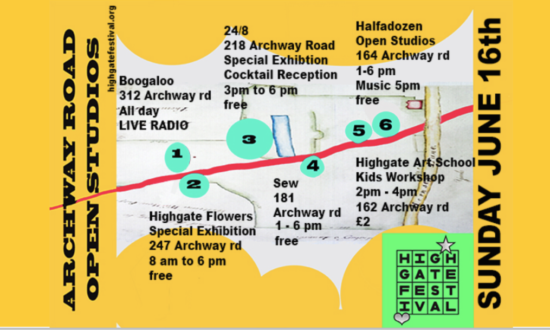 Date: Sunday 16 June 2019
Events will include:
Open Studio @ HalfaDozen Studio
Participating artists: Veronika Seifert, Marina Travaglini, Jeffrey Baker, Harriet Gillet, Spa Galaxy, Jordan Mba and Nana
Artforms: painting, sculpture, ceramics, mixed media collage, luxury interior home products
Time: 1–6pm
Venue: HalfaDozen Studio, 164 Archway Road
Price: Free
Highgate Flowers Special Exhibition – all day https://www.highgateflowers.co.uk/
Drop-in Children's art workshop
Experiment with process and technique with clay and mixed media collage and sculpture under the guidance of professional artists.
Target age group: 5 – 12
Time: 2–4pm
Venue: Highgate Art School, 162 Archway Road
Price: £2/child, £3/siblings
Live music from Jordana Mba
Acoustic set
5–5:30pm
Highgate Art School, 162 Archway Road
At "24/8" 218 Archway Road
Teetering/Maibobo Exhibition 3 –6pm Champagne reception
Highgate-based photographers and friends Kathryn McGeary and Patricia Gutierrez present two very different bodies of work. Kathryn showcases her series Teetering featuring playful portraits of North London women, their most precious items and their fabulous shoes. Her humorous and sometimes surreal images invite the viewer to fill in the blanks and decide for themselves what the rest of the scene might involve. Patricia presents her award-winning images taken in Rwanda on behalf of Streets Ahead, a charity helping street children back into society through social care, education and vocational training. Art Trail participants will be among the first to see these fabulous portraits, two of which will be featured in the forthcoming Portrait of Humanity photographic book while one prize-winning image will be touring the globe as part of the same exhibition. 
Also exhibiting paintings by Helen Brough and recent Architecture projects by Emmett Roepke.
Then back to the Boogaloo…