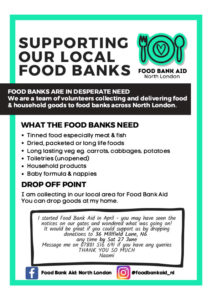 Food Bank Aid was established in late April and is a group of volunteers collecting and delivering donations of much needed food and household goods to currently 16 North London food banks. We coordinate collections from donors throughout north London.
We want to establish a sustainable foundation for receiving and delivering goods to the food banks, securing the support for the hundreds of families and individuals who are becoming reliant on food banks for survival.
We have three drop off points within Highgate and around 30 more throughout north London, so tell your friends and family – and please help us to help those in need.
Please contact Naomi Russell either through email on foodbankaid@gmail.com or message her on 07801516691 for further information.