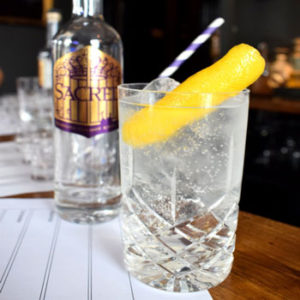 Throughout the Festival our local distillery, Sacred Gin will help us learn the art of cocktail making to ease us through lockdown.
Gin samples will be available from Sacred Gin's new premises in Highgate High Street from June 23rd. Samples will cost £29.95 per person for 5 x 50 ml bottles of various different gins (all Sacred) plus a 50ml sample of Sacred English Dry Vermouth for the Martini, plus a bottle of Fever Tree tonic. There will also be a sheet with some instructions.
Hilary Whitney of Sacred Gin explains: "On the night, each person chooses either Pink Grapefruit Gin or Cardamom Gin to make a G&T with – they should put a tiny amount aside for tasting later – so that they have a drink in their hand when we start.  Ian [Hart] and I will taste through the samples people have given and we will round off the evening with a Martini."
Participation in this part of the evening will be limited to the first 30 to buy the sample pack.
The talk will begin at 7.00 pm and the tasting at 8.00 pm. To book for the event (whether or not participating in the tasting) click here.