CELEBRATING HIGHGATE
The Highgate Festival brings together the wide variety of local community and businesses, to celebrate the creativity, history and culture of N6.
Generously supported by Highgate School, the Ham & High, the Highgate Neighbourhood forum and Robobuild in memory of George Michael, you'll find music, arts, film and local history, alongside the focus on ecology and horticulture.
This year will be the biggest festival to date. There'll be more than 70 events including workshops, talks, films, walks, music, plays, exhibitions and events organised by locals for locals – and lots of them are free!

PROMOTE AN EVENT
Support us on Twitter, Instagram, Facebook and Nextdoor using the hashtag #highgatefestival.
Tag us in by typing @highgatefestival – when the tag appears click to add us to your post. If you tag us we will be able to share and like your posts.
Encourage your friends to share your post!

USE OUR LOGO
If you'd like to use the Highgate Festival logo or poster in your social media or other promotions, download them here:
Highgate Festival poster (download as pdf)
Highgate Festival logo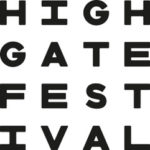 MAKE A CONTRIBUTION
Help make the Highgate Festival a success by contributing time, ideas or money. Get in touch if you want to help.