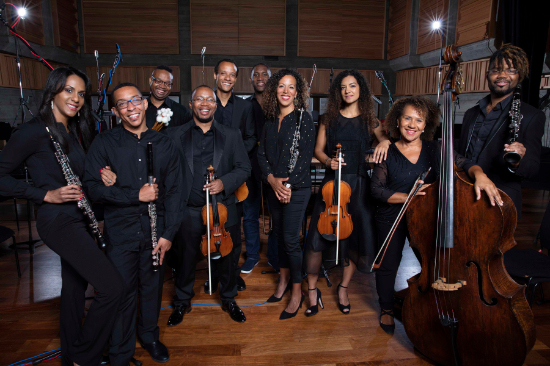 Music With Love is thrilled and delighted to be able to share this Chineke! Chamber Ensemble concert with the Highgate Festival.
Programme:
Florence B Price Two Folksongs in Counterpoint:
Drink to me with Thine Own Eyes and Shortnin' Bread (10 mins)
Schubert Piano Quintet in A, D 667 (Trout) (40 mins)
Performers:
Zara Benyounes, violin
Stephen Upshaw, viola
Ashok Klouda, cello
Chi-chi Nwanoku OBE, double bass
Stewart Goodyear, piano
About Chineke!
Chineke! was founded in 2015 by the double bass player, Chi-chi Nwanoku OBE, to provide career opportunities for established and up-and-coming Black, Asian and ethnically diverse classical musicians in the UK and Europe. Chineke!'s mission is: 'Championing change and celebrating diversity in classical music'. 
The Chineke! Chamber Ensemble comprises the principal players of the Chineke! Orchestra. Established two years after the orchestra, it first performed in Manchester in 2017, made its debut at Wigmore Hall in 2018 before going on to play at the Cheltenham and Ryedale festivals, Tonbridge Music Club, Wimbledon International Festival, Cambridge Music Festival and at St George's Bristol. Other highlights include performances at The Africa Center in New York, London's Queen Elizabeth Hall, New College Oxford, Leicester New Walk Museum and Snape Maltings.
Chineke!'s founder, Chi-chi Nwanoku OBE, says: 
'My aim is to create a space where Black, Asian and ethnically diverse musicians can walk on stage and know that they belong, in every sense of the word. If even one child feels that their colour is getting in the way of their musical ambitions, then I hope to inspire them, give them a platform, and show them that music, of whatever kind, is for all people.'
About Music With Love:
Music With Love was founded by composer and Highgate resident Jennie Muskett in response to the lack of arts and human connection during the pandemic. Our live concerts, given weekly by many of this countries finest classical musicians, streamed directly into people homes and care homes all over the country have been lighting up lives and giving a much needed opportunity for musicians to perform during a bleak time when concert halls have been closed.
We will be filming this performance for our Music With Love audience and everyone at home to share. If you can't make it to the live event, please join us at 2.30pm on June 30th by clicking this link: https://youtu.be/zMPVWgZMFYg 
Photo credit: Eric Richmond