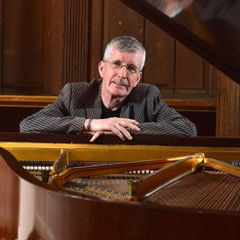 Long Gallery, Lauderdale House
Programme:
Beethoven Sonata in C# Minor Op. 27 No.2 (Moonlight Sonata)
Manuel de Falla Nocturno
Serenata for solo piano (1901)
First Spanish Dance from La vida Breve
Mendelssohn Andante and Rondo Capriccioso
Doors open: 1pm
Price: Free
Limited numbers – advance booking advised
Stephen Hose trained at the Royal Academy of Music where he held a Vaughan Williams scholarship, and has worked extensively as a Musical Director, conductor and pianist in London and regional theatre. He has played at most of the London concert halls and has performed in France and Germany. He is currently Pianist in Residence at Lauderdale House, Highgate.
Projects abroad have ranged from the English Theater of Frankfurt to The Lost Colony at the 2,000 seat outdoor theatre on Roanoke Island, USA. TV work has included being the pianist on Channel 4 's Titanic, The Mission, accompanist for The Choir, and 5 years as Musical Associate/Director for TV productions of Christmas Glory. He was Chorus Master for Jessye Norman's Ellington's Sacred Songs at the Barbican Theatre and Epidavros, Greece.
His work as Music Director for OperaUK has included Barber of Seville, Cosi fan Tutte, La Traviata, the Merry Widow, Olé and El Amore Brujo. For Merry Opera work includes La Traviata, The Magic Flute, Kiss Me, Figaro!, The Barber of Seville and La Belle Hélène (aka Troy Boy). He has also conducted over 50 performances of their unique staged Messiah.