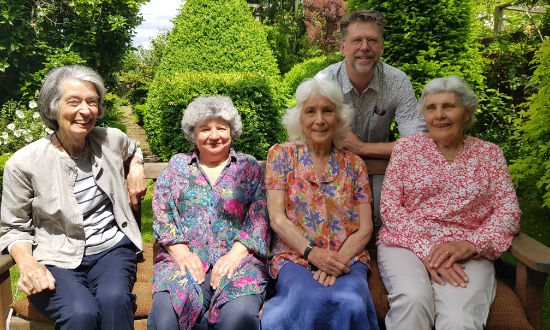 We hear from local gardening and greening experts in these pre-recorded sessions. Today it's the turn of local landscape designer, Peter Reader in conversation with local gardening doyennes – Mona Abboud, Ruth Benton, Bunty Schrager and Sue Whittington.
Peter Reader is a registered member of the Society of Garden Designers and provides a multiple award-winning garden and landscape design service.
While based in North London, Peter is able to provide this service across the country. Having trained at the prestigious Chelsea based KLC Design School, Peter loves to apply his expertise to a whole variety of settings from small London courtyards to sites of several acres.
His two RHS Award winning gardens demonstrate his versatility in design styles, from the crisp modern outdoor garden room of 'Al Fresco' to the ephemeral naturalistic perennial style of 'Four Corners'.
This is an up-front and personal conversation with the women behind their sensational and unique open gardens. Each shares their aspirations, inspirations, what turns them on, what does not and future plans for themselves and their gardens.
These glorious green fingers disclose their much-loved and preferred gardening styles, plants and gardens.
Our gardening ladies speak of their backgrounds and how they came to be where they are now, their adventures, surprises, travel tales and their quests for finding calm and tranquillity in their lives and gardens.