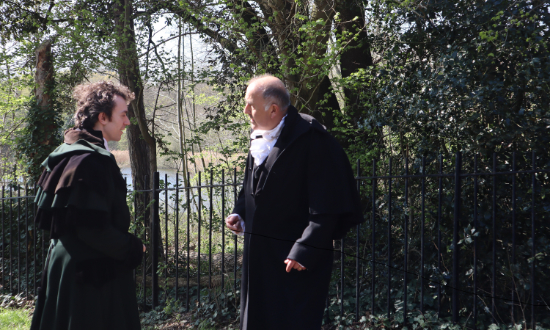 Take part in a reimagining of the famous meeting in 1819, between Romantic poets John Keats and Samuel Taylor Coleridge.
On 11 April 1819, John Keats took a walk across Hampstead Heath and on the way met Coleridge, who was living in Highgate at that time.
According to Keats, they talked of 'a thousand things' including Nightingales, poetry and dreams. Coleridge recalled the meeting quite differently.
First delivered in 2019 for the #Keats200 bicentenary programme, we will recreate this famous meeting, led by our historic enactors and talking of many things as we enjoy a walk across the Heath.
The event will begin near Coleridge's House in Highgate, arriving at Keats House, Hampstead approximately 90 minutes later. We will be walking across the Heath, which may be muddy whatever the weather. Please wear appropriate footwear and clothing for the conditions expected on the day. We think this event will be most enjoyed by those aged 16 and above but is suitable for all. We request that all children aged 12 and under are accompanied by an adult.
Meeting point: outside St Michael's Church, corner of South Grove / Highgate West Hill, Highgate, N6 6BJ.
Cost: £7.50 (adults); Free (18 and under).
Booking essential
This year's event is part of Highgate Festival 2021, and supports Hampstead Summer Festival.
The event also forms part of the #Heath150 events programme, a celebration of the 150th anniversary of the Hampstead Heath Act 1871. This marked the beginning of the protection of open spaces as sanctuaries for nature, people and communities, which are still important to us all today. Find out more using #Heath150