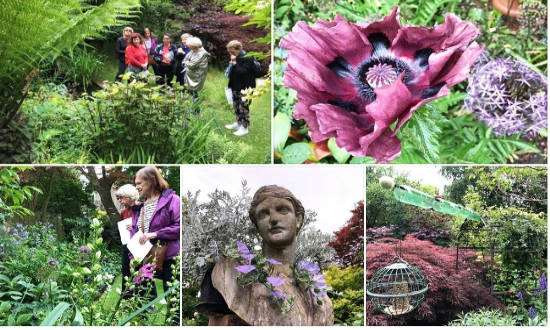 A hidden treasure of a garden, transformed from a neglected wartime wilderness into a flowing series of gloriously abundant spaces, burgeoning with variety, colour and texture.
Tall trees in adjoining gardens, a perry pear, a walnut and a heavily pruned but thickly leaved chestnut, give borrowed landscape at the boundaries, and the deep, heavily planted borders wind around the edges, through the centre and back up to the slope below the patio, to the pond with its little fountain and waterfall, damselflies, fish and frogs.
There's a golden arch of philadelphus aurea, still blooming with fragrant white flowers, which frames the steps down from the entrance patio, thriving in an open setting despite a complete lack of direct sun; and there is a broad area below the house which gets no direct sun but no matter, its still full of lush planting. No wasted space and unexpected delights at every turn!
Cost: By donation