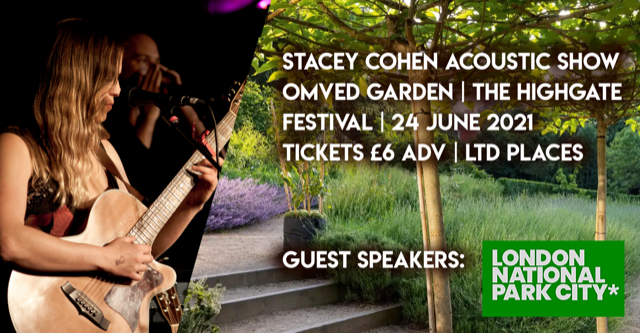 Offline
OmVed Gardens
Stacey Cohen
OmVed Gardens, Townsend Yard, London N6 5JF
Join us for a magical night of music & talks in nature, at the incredible OmVed Gardens in Highgate Village. Featuring guest speakers from London National Park City, and singer Stacey Cohen, playing an unplugged and intimate acoustic concert, alongside a chance to explore an exciting & visionary new eco centre.
About Omved
OmVed is an urban greenscape nestled behind Highgate High Street.  It is being transformed into a diverse eco habitat with a wildflower meadow, an orchard and a vegetable garden. Through collaboration with artists, architects, chefs, musicians and horticulturalists they are exploring the nature of the relationship between people and our connection to the environment.
About London National Park City
LNPC is a movement to make London greener, healthier and wilder. In just a few years, they have achieved incredible things, including, successfully having campaigned to have London declared a National Park City in 2019. They are coming along to tell us a bit about what this means, how you can get involved, about a few of their local projects, and what it means for the future of our City.
About Stacey Cohen
Stacey Cohen is a music artist & producer who makes Folktronica/Bass Folk. Her distinctive, playful, & quirky sound, is inspired by sustainability, nature, folk tradition & the urban musical landscape. Stacey often incorporates field recordings, found sound, recording experiments, and experimental electronic elements, within her tracks, and beats, to help to convey their stories.
Come and join us for a more intimate, unplugged, acoustic, garden concert where Stacey will be sharing acoustic versions of some of her songs.
Doors open at 6pm, concert and talks run from 6.30pm until 8pm.
Due to social distancing requirements there are only a very limited number of places for this event. Early booking is advisable.